Charged with Resisting an Arrest, Morris County, NJ Defense Attorney
Charges and Penalties for Resisting Arrest and 2nd and 3rd Degree Eluding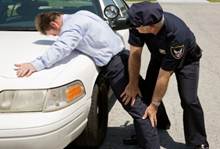 Am I allowed to resist arrest?
No. New Jersey law is clear – you are not allowed to resist a lawful arrest. Even if you believe you are being subjected to false arrest; it is still better to not resist. However, a law enforcement official is required to clearly state their intention to make an arrest prior to doing so. (N.J.S.A. 2C:29-2.)
If you were subjected to an illegal arrest, you need an attorney. Attorney William D. Ware is an experienced trial lawyer and former prosecutor. We can help uncover the facts surrounding your arrest. Because the crime of resisting arrest can have severe penalties, including jail time, it is important you contact an attorney as soon as possible to help with your defense.
Criminal Penalties for Resisting Arrest in New Jersey
Disorderly Persons Offense for Resisting Arrest. N.J.S.A. 2C:29-2(a)(1). Anyone who attempts to resist arrest commits a Disorderly Persons offense. You may be subject to paying an assessment to the Victims of Crime Compensation Board and to the Safe Neighborhood Services Fund of approximately $125, as well as be imposed an additional fine of up to $1,000. You may also face up to six months in jail.
4th Degree Crime for Resisting Arrest. N.J.S.A. 2C:29-2(a)(2). It is a 4th Degree crime when a person purposefully prevents, or attempts to prevent, an officer from making an arrest by eluding or flight.
3rd Degree Crime for Resisting Arrest. N.J.S.A. 2C:29-2(a)(3). You may be charged with a 3rd Degree Crime if you prevent or attempt to prevent an arrest by threatening a violent act or threaten to use physical force against another person or a police officer. You may also be charged with 3rd Degree Crime if you use any verbal or physical means to resist arrest that could create a substantial risk of harm to an officer or another person.
Eluding a Police Officer
If you attempt to flee as a way of resisting arrest, you may be charged with Eluding. The crime of eluding carries different degrees, but all charges for eluding are serious and can result in the loss of your driving privileges for six months to two years and possible jail time. [More About Charges of Eluding a Police Officer]
3rd Degree Crime. Eluding, at a minimum, is is a 3rd Degree crime. If you are convicted of 3rd Degree Eluding, you may receive a sentence of three to five years in prison.
2nd Degree Crime. If you endanger the life or welfare of another person, or cause injury to someone else while attempting to flee, you may be charged with 2nd Degree eluding. If you are convicted of 2nd Degree Eluding, you may receive a sentence of five to ten years in prison.
An Experienced Trial Lawyer and Former Prosecutor
The Law Offices of William D. Ware, Esq., have an understanding of the inner workings of a prosecutors' office and the factors that influence a prosecutor's decision in negotiating or trying a case. This information is invaluable in advocating on behalf of our clients.
Contact our office in Chester, New Jersey, to discuss your matter in a free consultation with William D. Ware, Esq., a New Jersey criminal defense lawyer, right away.
All clients can reach our firm at any time. You will be in direct contact with our firm and we will remain available to answer any questions that you may have and provide any necessary counsel until your case is firmly resolved. Mr. Ware has spent his entire career in the courtroom and will give you the peace of mind and confidence that you need while he successfully defends your case.
Call 908-955-7065 to speak with our firm, today.